Consultant Dr Daniel Boxer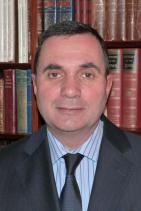 Radiologist
BSc (Hons), MB, BS, MRCP (UK), FRCR
Dr Daniel Boxer has been a consultant radiologist since 1992. He qualified from St Bartholomew's Hospital Medical School and performs a wide variety of diagnostic imaging with particular interest in ultrasound scanning as well as CT and MRI. His main areas of practice are within axial imaging (ultrasound, CT and MRI). He has specialist clinical interests in gynaecological (including transvaginal scanning), gastrointestinal and urological imaging and has considerable experience of paediatric imaging. He also lecture at the University of Hertfordshire on ultrasound imaging.
Currently Dr Daniel Boxer is a member of nationally recognised bodies, such as (Member) Royal College of Physicians, (Fellow) Royal College of Radiologists as well as (Member) British Institute of Radiology Member, British Medical Ultrasound Society.
Dr Boxer is currently practising at Spire Bushey Hospital & Watford General Hospital.