Elliott Wald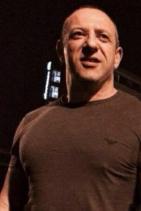 DSC, Dip, SC
Elliott Wald is a Master Trainer in many therapies and over the last 16 years has become recognised as a leading expert in the field of Hypnosis, Neuro-Linguistic Programming (NLP) and modern psychology.
Elliott is a truly exceptional and effective hypnotist with an impressive track record of clients who have found his unique abilities 'life changing', including celebrities from the movies, television, sporting and media industries, as well as thousands of members of the general public who have experienced his extraordinary results, through his one-one work or his many seminars delivered around the world.
Elliott is a regular face on our TV screens, having numerous appearances as the Hypnosis Expert of ITV's This Morning Show and 'Lorraine Kelly's Next Big Fat Challenge' demonstrating his outstanding skills. His success continues to be featured on television, in newspapers, magazines and radio. He is a published author.
Elliott Wald trained extensively with the London College of Clinical Hypnosis at Birkbeck College, University of London. His qualifications include awards from the prestigious British Medical Hypnotherapy Examination Board. Elliott has trained with and assisted the world famous hypnotist Paul McKenna on numerous seminars and training courses. He is a Master and Trainer of NLP learning from its creator Dr Richard Bandler.
In 2001 Elliott was elected to the board of the Hypnotherapy Association, a position he has now held for over 13 years, including being a past Chairman.
TREATMENTS INCLUDE:
WEIGHT LOSS, WEIGHT MANAGEMENT / OVERCOMING CRAVINGS & OVEREATING
PANIC ATTACKS / ANXIETY / STRESS / OCD / ANGER / RELATIONSHIPS / INSOMNIA / DEPRESSION
CONFIDENCE
PERSONAL / SOCIAL / WITH THE OPPOSITE SEX / INTERVIEW NERVES / AUDITIONS
ADDICTIONS
CHOCOLATE / COCAINE / GAMBLING
STOP SMOKING
FEARS & PHOBIAS
PUBLIC SPEAKING / FLYING / DRIVING / BLUSHING / HEIGHTS / SPIDERS / VOMITTING / AGORAPHOBIA / DENTIST / NEEDLES – INJECTIONS / BEES & WASPS / BIRDS
SPORT ENHANCEMENTS
GOLF / DARTS / BOXING / FOOTBALL / TENNIS / SNOOKER / RUGBY / RUNNING