Jacqueline Birtwisle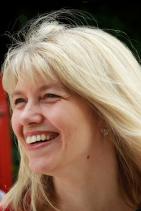 Dietician
MA, BSc (Hons) RD
Qualified in 1990, Jacqueline Birtwisle has worked extensively in clinical and sports nutrition for nearly 25 years, establishing herself as a leading freelance practitioner in 1998. She is currently Consulting Dietitian to the Royal Ballet and to the Central School of Ballet where she teaches nutrition for performance and counsels aspiring dancers aged 16years+. She is a visiting lecturer at UCL on their MSc in Performing Arts Medicine and enjoys writing a monthly column for the in-house magazine for British Rowing.
Jacqueline worked with the British Olympic movement between 1997-2008, across nearly three Olympiads including, the position of HQ nutritionist for the British Olympic Association 1999, the Olympic Medical Institute (8 years), GB Rowing (10 years), GB Diving (6years), UK athletics (5 years) – all within a multidisciplinary sports medicine and science setting.
Jacqueline holds an MA in 'working with people with eating disorders' from the Tavistock and Portman NHS Clinic, London, which enables her to work sympathetically with older teenage and adult clients presenting with dysfunctional eating issues. Clinically, she has a keen interest in all things digestive-related, having started her career in gastroenterology at the Oxford Radcliffe Hospital and is fully trained in the application of FODMAP elimination diet for the treatment of irritable bowel syndrome. An additional interest is women's health, including fertility, bone health and symptoms surrounding menopause.