Lisa Goodkind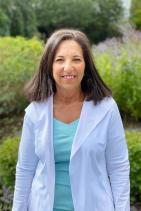 Functional Medicine Practitioner
BSc (Hons) Dip NT mBANT rCNHC
Lisa is a CNHC and BANT Registered Nutritional Therapist and Functional Medicine Practitioner and specialist in Autoimmune Diseases and Chronic Complex health conditions and Gut Health.
Lisa qualified with a distinction in Nutritional Therapy from the world-renowned College of Naturopathic Medicine in London and has taken her Functional Medicine training with the industry leading Institute of Functional Medicine in the USA. She has post-graduate certification in the following areas from the Kharrazian Institute in the USA: Autoimmune; Gastrointestinal; Neuroinflammation; Hashimoto's and Diabetes & Dysglycaemia.
Having previously worked in the worlds of banking, business and finance, Lisa discovered the power of diet and lifestyle medicine when she reversed the symptoms of her own autoimmune condition. Since that time she has studied, trained and researched avidly so that she can help others in similar situations.
Lisa's approach is to take a very detailed case history and to understand her client's health history going back to their childhood and birth. As well as understanding any predisposing factors, Lisa will seek to understand the point at which her clients' health changed. This involves identifying what triggers and continuing factors may have contributed to and driven their departure from wellness. As well as understanding genetics, this might involve looking into diet and nutrition, life challenges, pathogenic triggers (for example bacteria or viruses), exposure to chemicals or toxins as well as spiritual, emotional and mental fulfilment.
Lisa says: "my mission in life is to share my knowledge in order to help people heal. I love to unravel the health stories and get to the heart of the problem and them to help support nutritional and lifestyle changes that have the ability to transform my client's health. I have seen incredible changes in the health of those I have worked with"
Lisa treats a wide range of issues including, amongst others:
Anxiety and Depression
Arthritis and Joint pain
Brain fog and Neuroinflammation
Chronic Fatigue Syndrome
Fibromyalgia
Gut Disorders
Headaches and Migraines
Hypertension
Insomnia and Sleep Disorders
Rheumatoid Arthritis
Polymyalgia
Thyroid Disorders including Hashimoto's
Type 1 and Type 2 diabetes

Lisa lives in Hertfordshire and is married with twins and plays golf when she can. She works with clients both nationally and internationally.
For more information visit www.goodkindwellness.com