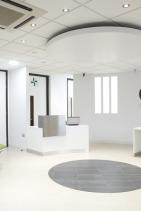 Centennial Medical Care Consultant Directory May 2018
1 May 2018
We have great pleasure in showing you our new-look Consultant directory. It contains the most comprehensive and up to date list of all GPs, Consultants and related professionals who hold clinics at CMC, Elstree. New Consultants join CMC regularly so we will continue to send you information about new and continuing developments within our practice.
Centennial Medical Care can provide you with a huge amount of knowledge and direction regarding the best way forward with your healthcare. We have connections with numerous Consultants who may not necessarily work at CMC but who we can recommend and help direct you too, depending on your needs.
CMC focuses directly on the needs of the patient and now has an established daily GP service. We understand the need of a good relationship with your GP. We have worked hard in sourcing the most experienced GP's who hold regular clinics at the practice. That way you can be assured of seeing the GP you want to see.
Please use CMC as your regular and local source of contact for all areas of you and your family's health needs. Our experienced staff are always ready to help in any respect. Click here to download your own copy of the new CMC Consultant directory, and call us on 0203 327 7777 to discuss making an appointment.