Simon Ziff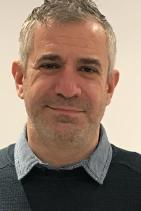 Addiction Therapist

Simon is a qualified, experienced therapist and BACP member working with clients suffering with addiction, anxiety, depression and relationship issues. Simon offers a warm and empathetic approach in a comfortable, intimate and confidential environment.
Having achieved his diploma in Addiction Psychology and Counselling from London South bank University Simon both trained and subsequently worked full time at the North London Priory Hospital, working and learning from some of the most highly skilled specialists and therapists in therapy and treatment and is also trained in the Pia Mellody Post Induction Therapy model (from the Meadows for healing and resolving developmental and childhood trauma).
Life can bring its struggles which, for many can lead to the above issues. The impact of our behaviour and anxiety often tips from being manageable to suddenly interfering with daily life, affecting you, your family, your work and the people around you. If you can relate to any of these situations, then Simon can help.
He specialises in helping clients who are experiencing problems relating to drug addiction, alcohol dependency, anxiety, depression, relationship issues, childhood trauma and many other addictions. He also works with family members who's loved ones are in active addiction.
As destructive an Illness as addiction can be, there is a way out of this dark hole and making that first call for help can be the beginning. Addiction comes in all forms, whether it be alcohol, drugs, food, sex, love, shopping, exercise, anger issues, work, self-harm, gambling, low self-esteem issues or co-dependency. It is an illness that can leave an individual totally powerless over their behaviour and thoughts. There is however, a way out! If you are worried that you, a member of your family or friend is being affected by any of the above issues, then please contact us.