Ashleigh Murray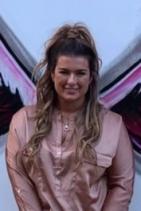 Physiotherapist, Psychologist, Clinical Psychologist, Psycotherapist

Ashleigh Murray is a Play Therapist and Creative Counsellor working with children and young people from the age of 4-17 years.

Since qualifying Ashleigh's aim has always been to keep her clients individual needs at the heart of her work. She strives to give her clients an outlet for their conscious and unconscious emotions, the support to understand and develop skills that can be used throughout their life, time to grow at their own pace and the space to become the truest version of themselves to reach their fullest potential.

Ashleigh see's working holistically extremely beneficial, looking at the whole child and taking an interest in the people around that child so they can work together, as a team to see the bigger picture. With the ultimate goal of making that picture better, with the child being the navigator for what that change is for them.

Ashleigh has had a lot of experience working alongside social services, CAHMS and Domestic Violence Centres as well as state and private primary and secondary schools around North London. She has additional training in Life Story Work and is a Non-violent Resistance Parenting (NVR) informed practitioner.

Ashleigh is registered and accredited with Play Therapy UK (PTUK) and is also a member of the British Association for Counselling and Psychotherapy (BACP).