Dr Elliot Smith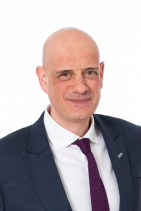 Consultant Cardiologist
Dr Elliot Smith is a Consultant Cardiologist at Barts Health NHS Trust and Royal Free Hospitals NHS Foundation Trust. He looks after General Cardiology patients with chest pain, coronary disease, high blood pressure, valve disease, arrhythmias, and heart failure.
He is an interventional cardiologist with specialist expertise in coronary angioplasty and stenting. He has a particular interest in complex techniques including coronary atherectomy and chronic total occlusions (CTOs). He leads the complex coronary revascularisation & CTO programme at Barts. He is a recognised expert in complex coronary interventions, and regularly participates in live case demonstrations to colleagues nationally and internationally. He is an international trainer (proctor) for complex angioplasty and CTO procedures.
He looks after many patients with prior bypass surgery or stents, some of whom have been told there are no further options to improve blood flow to the heart. He feels there are still many patients who have much to gain from improved coronary blood flow, but who may not be offered it due to adverse complexity or risk.
Originally from Manchester, he is passionate about sport, especially football. He is a keen cyclist. He is married with 4 children.