Dr Kiran Nijabat, Paediatric Psychiatrist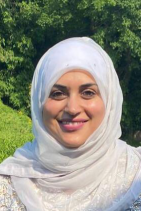 Child and Adolescent Psychotherapist, Consultant Child & Adolescent Psychiatrist, Child and Adolescent Psychiatrist

Dr Kiran Nijabat is a Consultant Child and adolescent psychiatrist and the founder and director of the Family Wellness Practice.
Dr Kiran graduated from Guys', King's and St.Thomas' Medical school in 2008 and gained an Intercalated BSc in Management from Imperial Business School. She went on to train on the UCL core psychiatry training scheme and the Tavistock higher training scheme.
Kiran is passionate about mental wellness and uses her expertise to educate children, adolescents, their families and professionals through workshops and CPD accredited courses.
In the past 5 years, Kiran has led the Family Wellness Practice team and has developed and delivered ten CPD accredited mental health related courses covering a range of subjects, including mental wellness, building resilience, parenting, self harm and suicide prevention.
The Family Wellness Practice team have delivered bespoke mental health training and counselling to over 5000 staff parents and students across various sectors including schools, colleges, nurseries, orphanages, residential homes, charities, places of worship and hospital staff.
Dr Kiran is a regular key note speaker at mental health conferences and has received outstanding feedback both nationally and internationally for her work and strives to be at the forefront of mental health education.