Dr Shabaaz Mughal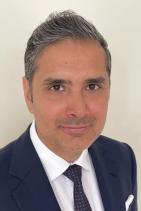 MBBS MRCGP MSC (Sport & Exercise Medicine) FFSEM (UK) PGC (Musculoskeletal Ultrasound)
Dr Shabaaz Mughal MBBS MRCGP MSC (Sport & Exercise Medicine) FFSEM (UK) PGC (Musculoskeletal Ultrasound) is an experienced, award-winning consultant, who has held several prestigious positions and lectured widely in sport and exercise medicine. He is committed to taking a patient-centred, holistic approach, dedicated to giving every patient, whether professional sportsperson or not, exemplary care.
Having qualified from the University of London in 2000, Dr Mughal went on to become one of the first UK consultants in Sport & Exercise Medicine. His 14 years' experience in top-level sport include leading Tottenham Hotspur's Medical and Sport Science department, holding the positions of Chair of the Premier League Doctors Group and President of the Royal Society of Medicine Sport and Exercise Medicine section.
Dr Mughal's expertise is in caring for all sports and musculoskeletal injuries, the areas he focuses on include joint and muscle pain and injuries, ligament and tendon problems, complex sports hip and groin injuries, non-operative management of knee and ankle injuries, football medicine, nutrition, lifestyle medicine and rehabilitation from both long-term musculoskeletal injuries and post viral illness. He offers musculoskeletal ultrasound examination during the consultation to provide an immediate diagnosis. Regardless of the level a patient has participated in exercise or sport, he will do everything he can to ensure they return or even surpass that level of involvement.
In 2012, he played a pivotal role in the on-pitch cardio-pulmonary resuscitation of Bolton Wanderers' player Fabrice Muamba, winning plaudits worldwide for his intervention. His work on the Premier League Medical Working Group and Steering Group on Head Injuries and Concussion has significantly developed and enhanced the medical care in the Premier League.
He is a Fellow of the Faculty of Sport and Exercise Medicine and has presented domestically and overseas on a spectrum of Sport and Exercise Medicine subjects including musculoskeletal injuries and screening programmes in elite sport, sudden cardiac arrest in sport, the club doctor's role, sportsmen's groin and concussion.