Dr Sharmishtha Sarkar, Consultant Paediatrician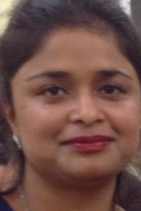 Paediatrician, Paediatric Gastroenterologist
MBBS, MRCPCH, MSc
Dr Sharmishtha Sarkar is a NHS Consultant in East and North Hertfordshire NHS Trust, specialising in Paediatrics with subspecialty in Community Child Health (Neurodevelopment Paediatrics).
This is her 9th year as a Consultant, she thoroughly enjoy working with children and their families, she will often also liaise with schools and other allied health professionals to ensure that the child has the best journey in attaining physical and emotional wellbeing, by ensuring that their medical and neurodevelopmental needs are met.
Dr Sarkar is the Designated Officer for Special Educational Needs for her employing NHS trust, providing medical advice for children with Special Educational Needs to the Local Educational Authority . She is the lead for Children with Downs Syndrome in her capacity as a Consultant in her Department.
Clinical interests
Autism (ASD)
ADHD
Developmental Delay
Dyspraxia
Epilepsy
Autism Diagnostic Assessment
Year qualified
MBBS (2000)
MRCPCH(2005)
CCT in Paediatrics and Community Child Health (2013)