Consultant Professor Adam Fox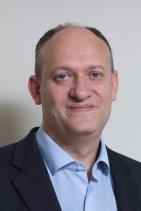 Paediatric Allergist
MD, MA(Hons), MSc, MB, BS, DCH, FRCPCH, FHEA, Dip Allergy
Adam sees patients with the full range of allergic disorders and is particularly interested in eczema and food allergy as well as allergen desensitisation, both for foods (including peanut, milk, egg, sesame and tree nuts) as well as environmental allergens such as pollens, dust mites and pets and he is actively involved in research in these areas. Together with two colleagues he established The Food Allergy Immunotherapy Centre at Great Ormond St Hospital in 2021, where he initiated the first patient in the world, outside of the US, on Palforzia (the first licenced food allergy desensitisation product) in October 2021. www.thefoodallergyimmunotherapycentre.com
Adam read Medicine and Neuroscience at Cambridge University before completing his clinical training at University College, London. After specialist training in Paediatric Allergy in 2006, he was one of the founding consultants of what is now one of Europe's largest specialist Allergy services, at St Thomas' Hospitals, London. Adam spent 9 years as clinical lead for Allergy (Adult & Paediatric) at Guy's & St Thomas' Hospitals, during which time the service was recognised as an International Centre of Excellence by both the World Allergy Organisation and GALEN (European Asthma & Allergy Network). He is also a Professor of Paediatric Allergy at King's College London and the founding Director of the KCL Allergy Academy, a postgraduate educational programme, which was a finalist at the BMJ Awards in 2018.
Adam was elected President of the British Society of Allergy & Clinical Immunology, the first Paediatrician to hold this position, from October 2018 until 2021. He remains a Trustee and took on the role of Chair of the National Allergy Strategy Group, working closely with the Department of Health & Social Care, from July 2022.
Adam was awarded 'Paediatric Allergist of the Year' from Allergy UK in 2007. His doctoral thesis on peanut allergy received the Raymond Horton Smith prize from Cambridge University in 2012 and he was included in The Times 'Britain's 100 Best Children's Doctor's' (2012). Adam received the William Frankland Award for Outstanding contribution to Allergy from the British Society of Allergy & Clinical Immunology in 2015 and a National Clinical Excellence award from the UK Department of Health in 2016 and 2020. Adam has lectured around the world, made numerous documentaries, published over 100 research articles including in top medical journals and appears regularly in TV and print media, including as a regular contributor on ITV 'This Morning'.
Adam's private practice, Allergy London was awarded 'Best Allergy Clinic - London' in the 2019 Global Health & Pharma Private Healthcare Awards and Best Allergy Testing Specialists in the 2020 Private Healthcare Awards. He was also recognised by Doctify for 'Excellent Patient Experience' in 2018 and was one of 29 specialists to receive the 'Top Doctors award' in 2018 from Top Doctors website, voted for by other doctors, asked to nominate who they would choose to go to if they had a problem, or who they would recommend for friends and family. He was also listed in the most recent 'The Tatler Doctors List' (2013) of the best 250 UK private medical consultants. Allergy London, his practice, is top rated at 4.9/5 on Trustpilot, where all his patients are asked to post a review.
@dradamfox
www.allergylondon.com