Dr Suren Naidoo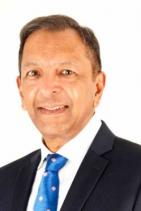 General Practitioner
MBBCh, LRCPI, LRCSI, DRCOG.
Dr Naidoo has thirty three years experience in General Practice dealing with a wide variety of clinical conditions. He has recently left Longrove Surgery in Barnet and is now working at the Centennial Medical Centre Elstree.
His special interests are cardiovascular medicine and diabetes focussing on health education and preventative medicine.
He has been involved with teaching medical students from University College London and is an examiner for the College.
He is a GP Appraiser for NHS England covering the North-East Region.
Dr Naidoo is a highly qualified general practitioner who practices medicine with an holistic approach, prepared to listen to his patients, is caring and dedicated to achieve the best possible care for his patients. He is highly respected by his peers.
Dr Naidoo is accredited by the CQC and has been trained in Safeguarding for Adults and Children to Level 3 and holds a current certificate in Cardio Pulmonary Resuscitation.
Dr Naidoo has been in Aesthetic Medicine since 2002.
He has trained extensively on the use of Lasers to treat Facial Acne scarring, hair reduction, treating small facial thread veins, leg veins up to 4 mm in diameter, using radiofrequency for facial skin tightening.
He also treats fine facial wrinkles and uses dermal fillers to help his patients achieve a softer natural appearance.
He is trained in minor surgery and will undertake to remove small skin lesions from the face and body.
Amongst the other aesthetic treatments are specialised procedures for facial rejuvenation, acne, hyperpigmentation, treating Hyperhidrosis (excessive sweating), menopausal symptoms, and vitiligo.
www.londonvaginalatrophyclinic.com
Clinic for Vaginal Atrophy, London Specialist Vaginal Atrophy Treatment
www.londonvaginalatrophyclinic.com
Call The London Specialist Vaginal Atrophy Clinic today on 020 8370 9500 to find out more this new life changing laser treatment.
Dr Naidoo is a member of the British Medical Association, Royal Society of Medicine, Royal College of General Practitioners and associate member of the British College of Aesthetic Medicine.